Alamo TV Mounting Service
Need a Television On The Wall?
TV Mounting Service San Antonio
Mounting a television isn't as easy as drilling a few holes through some brick or drywall; several factors come to play – such as the dimension of the commercial or residential space, power cable management, aesthetic requirements, the size of the TV, and more. These factors will vary with individual preferences and different TV types. While it might seem easy to go out there and pick an appealing design and style for your mounting unit, it's qualified assessment and installation that makes all the difference – that's what we offer at Alamo TV mounting service.
We can mount your TV in just about any location: on the wall, above a fireplace, or even on a ceiling. Over the years, we've worked on several projects in and around San Antonio, Tx, and we know exactly what works and doesn't. Our tv mounting experts will work with you to determine what suits your space. Whether it's a wall mount, ceiling mount, or articulating arm mount, we've got you.
Don't be stuck with a TV that's too high or too low for your comfort. Let us help you mount it in the perfect position for your home. Reach out to our San Antonio TV mounting installers TODAY!
Get a Quote from our installation pros
Residential and Commercial
TV mounts are a great way to add value to your space, whether residential or commercial. They can also help you save money by improving the functionality and appearance of your TVs. There are many types of TV mounts, each with its own benefits.
The most common type of mount is the wall mount, which is made up of a metal bracket that attaches to a stud in the wall and supports your TV. These are often adjustable and come with either a swivel or tilt mechanism. Tilting wall mounts allow you to tilt your TV down so you can view it from multiple angles without moving the entire mount. These mounts are great if you want to avoid glare while watching TV in your bedroom or kitchen! Wall mounting can be affixed to all kinds of supports, be it bricks, concrete, metal poles, or sturdy wooden structures.
Another popular option is a ceiling mount, which allows you to hang your TV from the ceiling. This mount leverages roofing beams for a firm wall bracket attachment or can be fixed directly to a concrete ceiling. A ceiling mount can be used with other types or on its own. You can also find variants that allow you to attach several TVs together if needed!
A floor stand is another option for those looking for something more permanent than a wall or ceiling mount. Floor stands typically have wheels, so they're easy to move around when needed but remain firmly planted in place when left alone at home!
A projector mount is designed specifically for those who use projectors for home theatre screens or office use instead of televisions. They allow you to adjust the height and angle of your projector to align it with your screen perfectly.
Projector mounts are great for people with large rooms, as they allow you to position your projector at the perfect distance from the screen. They also reduce glare, so you can enjoy a clear picture while watching movies or playing games.
Your choice will depend on your space, the type and size of TV to be installed, cord concealing plans, and the desired mounting height. Whatever it is, our professionals are up to the task and can handle your projects any day, anytime.
Mount Your TV on Drywall, Brick, Concrete, and More
If you want to mount your TV on drywall, brick, plasterboard, or concrete, we've got the solution for you – whether you're looking to mount your television in your basement, garage, or even outdoors near a pool.
We'll come out to inspect the space where you want to install your TV to ensure it fits properly. Then we'll make sure that it's mounted safely and securely by attaching it with screws into either drywall studs or concrete blocks already in place. Suppose there are no existing structures where you want to hang up your new TV display (such as for a new installation). In that case, we'll ensure there's enough wall support before drilling any holes through drywall or bricks so that nothing will collapse once everything is installed!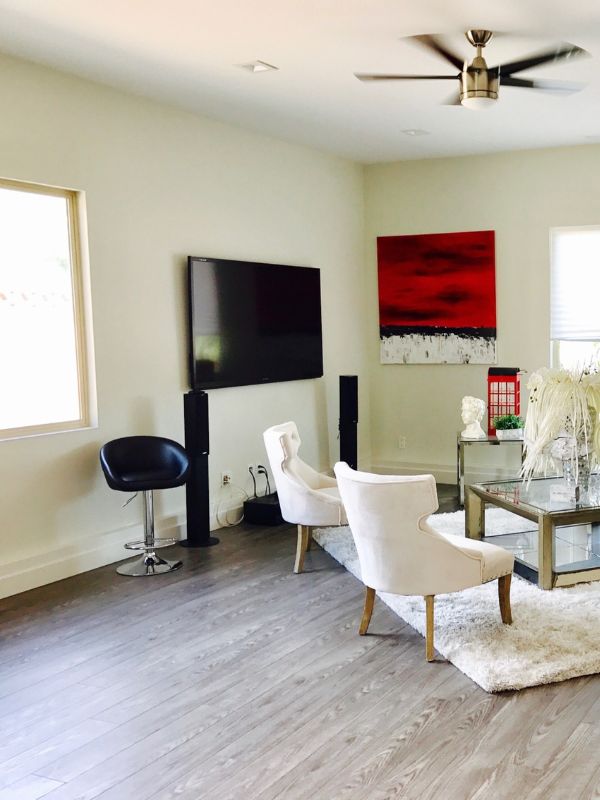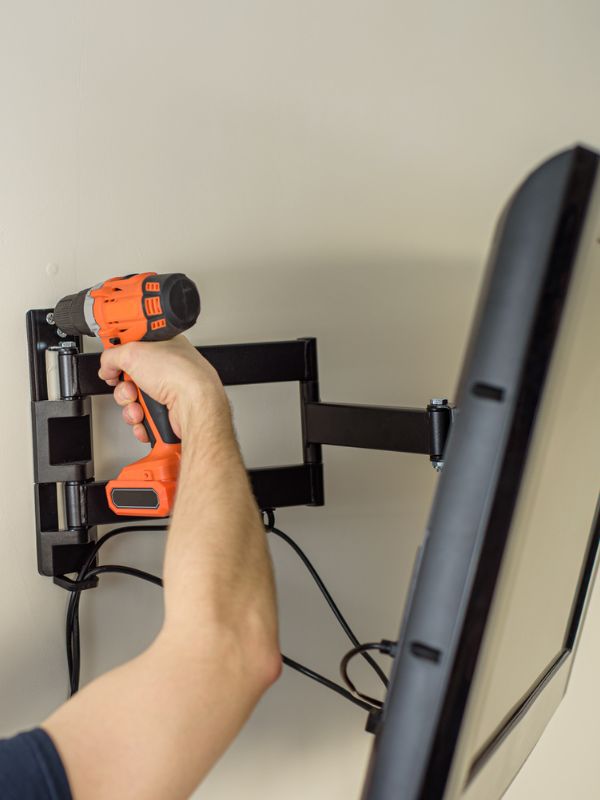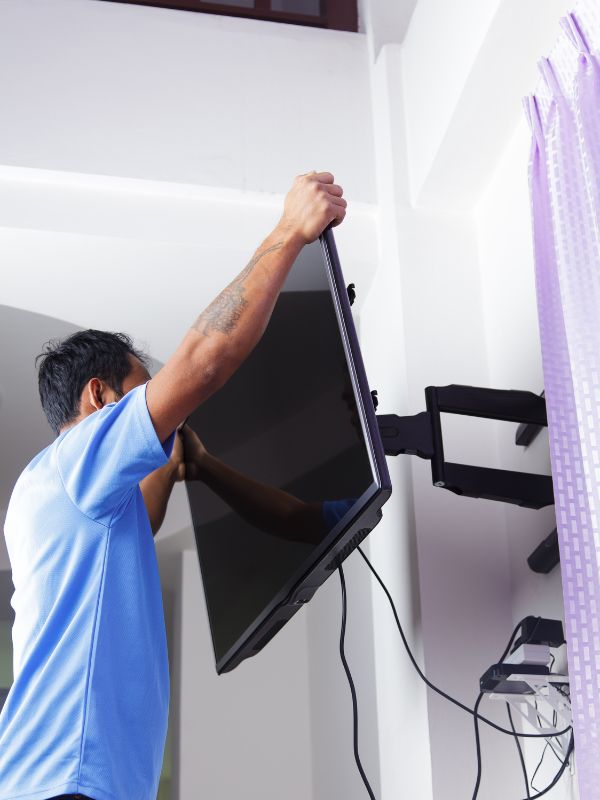 We'll also ensure that the TV is mounted where it will be most visible and accessible while brandishing the perfect entertainment center around it!
Wired and Wireless Installs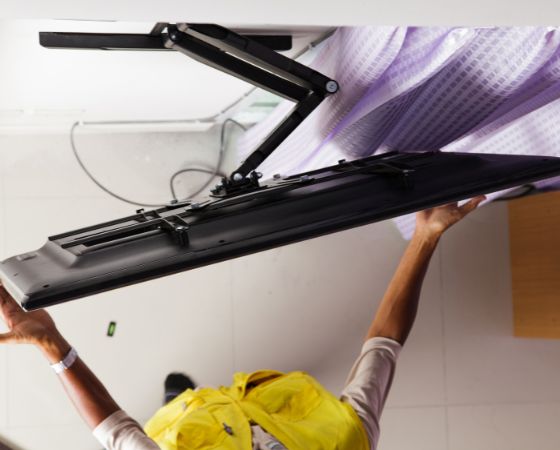 Hanging a TV provides you with two options for cable management – to show wires or to hide them. If you don't care very much for in-wall cable concealment, a typical cable raceway and brackets can be used to channel the wires of your appliances. Raceway conduits are easy to install and are an excellent choice for the wireless installation of TVs, soundbars, and the like. If you prefer in-wall concealment of cables, there's the need to call in our tv mounting and installation professional to determine the extent of wall surgery required.
Want something more aesthetic, like a floating TV installation or surround sound system hanging from a wall or ceiling without any noticeable cable work? Not a problem! We'll utilize the attic spaces above your rooms to conceal wires and components – that's often easier than passing cable through walls.
Ready to go wired or wireless? We've got you covered!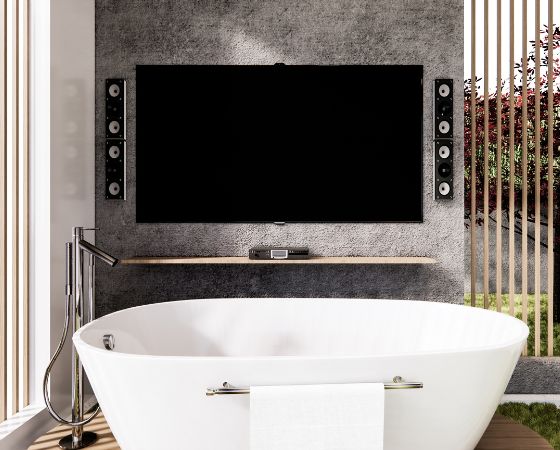 If you have ever been to a movie theater, you have experienced surround sound. The sound coming from each speaker seems to come from different places around you rather than just directly at your ears, as most stereo systems do. This gives a much more immersive and realistic experience.
Surround sound systems are also used in home theaters and can give you a fantastic audio experience at home or in an entertainment area. If you want to set up a surround sound system, we've got you covered. Here at Alamo TV Mounting service, we employ the latest technology and the expertise of our certified sound engineers to ensure that you get the best sound quality possible.
We offer a wide range of options for audio systems, including in-wall speakers, in-ceiling speakers, and outdoor speakers. We can install any combination of these in any suitable space you choose.
Entertainment Area Experts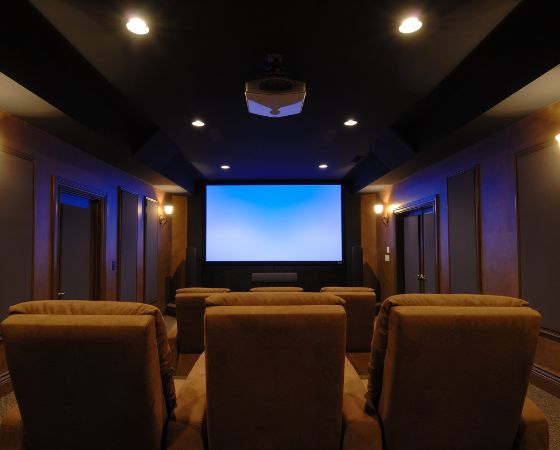 You deserve a space where you can kick back and relax, whether after a long day at work, before bedtime, or anytime at all. Imagine an indoor or outdoor fun space that offers a fantastic experience with mood lighting, comfortable seating areas, decorative planters, smart home technology, and more. You sure want something like that, don't you?
Our entertainment area experts will work with you to develop the ideal floor plan and design that perfectly fits your needs and budget. From mounting TVs to the wall or ceiling to wiring to installing projectors, surround sound systems, cable boxes, Apple TVs, gaming consoles, or optimizing your Texas home theatre experience, we'll ensure that every aspect of your system works together seamlessly.
If you have any questions about our entertainment area options or want a free estimate, don't hesitate to contact our professionals in San Antonio.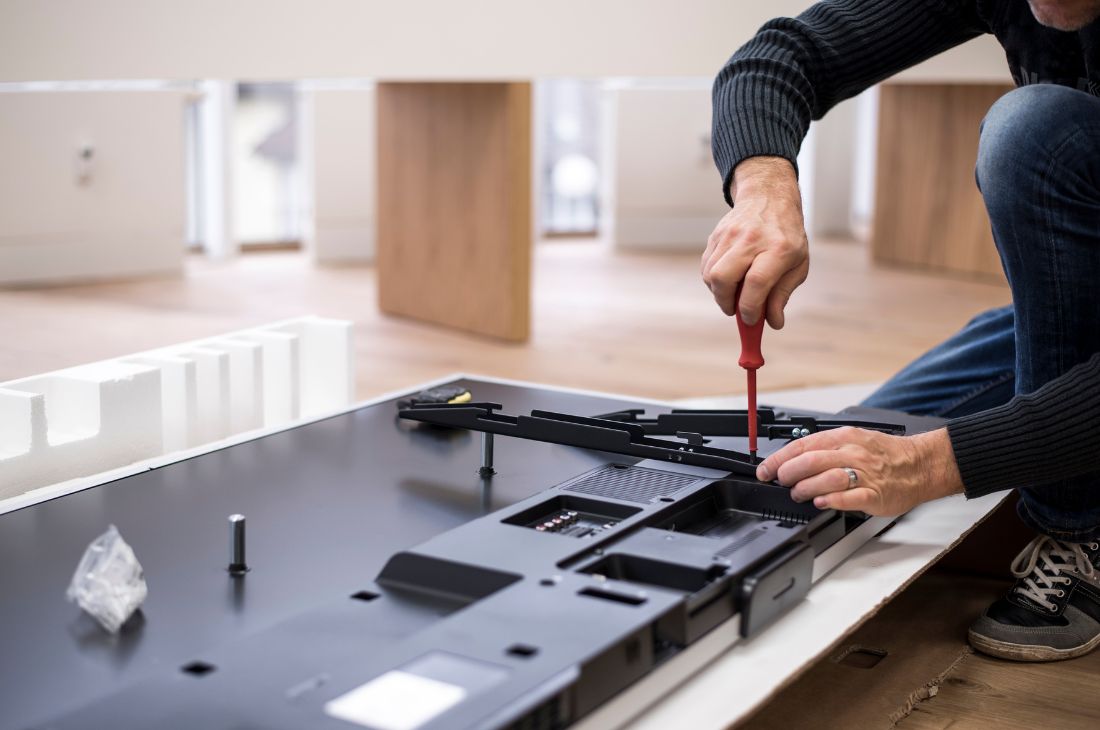 San Antonio TV Mounting Contractors – Safe, Secure Attachment
We are San Antonio's best-kept secret when it comes to safely and securely mounting anything from a flat-screen TV to sound systems and everything in between.
What all do y'all fellas do?
Alamo TV Mounting Service is a local business based in San Antonio, Texas. We provide professional installation services for TVs, sound systems, projectors, and monitors.
What areas of town do you serve?
We serve all areas of San Antonio, Texas, and surrounding communities, including Downtown, Southtown, Dignowity Hill, Tobin Hill, Ingram Hills, Denver Heights, the San Antonio River Walk area, and more.
In addition, we also go to Alamo Heights, Converse, Live Oak, Timberwood Park, Helotes, Macdona, Lasoya, and many other areas of town.
Does mounting the TV damage the wall?
Putting in a TV mount requires drilling into the wall, so any time you take it down, you'll need to repair the hole. However, it would be best if you never placed a TV on drywall without first finding a tv mounting metal stud to anchor it.
Okay, Okay. What's this gonna cost me?
Typically the average price of a TV mount is estimated at $245, and the final mounting cost will depend on the complexity of installation, mount type, and size of the TV.
Any Guarantee or Warranty?
We stand by our work. If you are unsatisfied with your installation, we will return to fix it. We will only leave once you are satisfied.
Request the #1 Texas TV Experts
Home Cinema Installation, Structural Wiring & More
Alamo TV Mounting Service is a highly rated and experienced company that provides a wide range of services. We have provided our customers with the best quality service for several years. Our expertise ensures that you receive high-quality work at an affordable price. We can help you with everything from home cinema installation to structural wiring and more.
We are committed to delivering exceptional customer service and ensuring that we exceed your expectations every time. You can trust us to provide an accurate estimate, show up on time, keep our work area clean, perform quality workmanship and be there when you need us. We guarantee 100% satisfaction with all of our services!